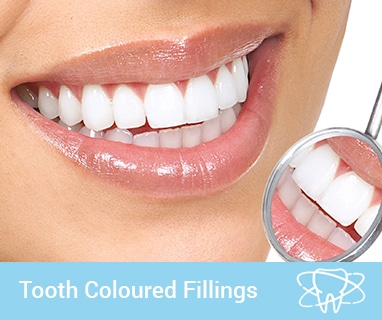 Coomera Dental Centre prides itself on providing professional dental services at an affordable cost. We have highly trained staff who provide exceptional services and will patiently answer your concerns and questions. We are located conveniently and we also offer free parking services.
One of the most popular services that we offer at our centre is tooth coloured fillings. These fillings mimic the appearance of natural teeth, and are used to restore decayed or fractured teeth. Additionally, tooth coloured filling can also be used in cosmetic enhancements – to change the colour, size, and shape of the teeth.
The following are some advantages of tooth coloured fillings:
They are composite resin restorations which allow us to place 'fillings' in both front and back teeth
They match your teeth seamlessly and mimic the natural tooth structure
The benefits include durability and relatively low cost
Tooth coloured fillings are used to fill in cavities and protect your tooth from getting infected
They bond better to the teeth and hence require less drilling of the tooth
They are more aesthetically pleasing
They have less long term sensitivity than silver filings as they have no metallic particles
Tooth coloured fillings are highly recommended over other options because of the many benefits they provide. One of the significant things we have noticed in our own clients is how they boost confidence because of the close resemblance of these fillings to natural teeth.
The metal fillings of yesteryear just 'rested' on the teeth and provided only a limited degree of protection. With research conducted over the years, new bond fillings for teeth were created to provide more comprehensive and longer lasting protection for the teeth.
You can come in for an appointment and discuss with our dentists about the options available. After an initial examination, we can provide you with the exact details of your current oral health and recommended treatments. Your treatment plan and procedure will commence after a discussion with you.