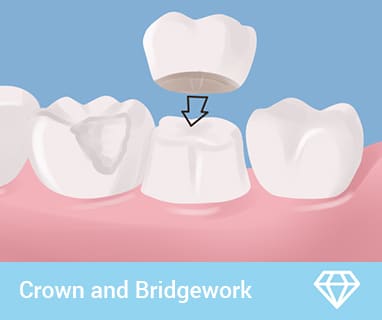 Crown and bridgework can sometimes be the best option to replace a part or the whole of your teeth, when dental implants cannot be considered. There are removable devices such as dentures that can be taken out and cleaned daily, but crowns and bridges are affixed to your teeth and can be taken out only by a dentist.
Dental Crowns
Crowns are used to cover or 'cap' a damaged tooth, to strengthen and provide protection to it. Bridges are used to replace missing teeth, by building a bridge over the edentulous area.
Crowns are used to cover an entire tooth or work as a cap for a damaged tooth
A crown helps strengthen the tooth and also improve its appearance, shape etc.
It can replace a large filling when there isn't enough tooth remaining
Protects a weak tooth from fracturing
It is an efficient restoration process that encases a tooth to restore form and function
Dental Bridgework
This procedure is recommended by our specialists if there are one or more missing teeth. There are different varieties of bridges available – based on the materials used. This is usually decided based on the location of the tooth, the function of the tooth etc.
Bridgework helps contain gum diseases
It is a series of crowns fused together to replace missing teeth
Long lasting and not removable
Reduces the potential danger of leaving the space as it is
Is a quicker and faster procedure than implants