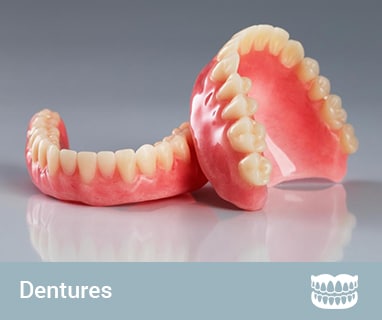 Dentures are a removable option for replacing your missing teeth. They can be taken out and put back into your mouth. Compared to earlier times, dentures that are now available are more natural looking and comfortable, though it still may not feel like ones natural teeth.
Whether you have lost your teeth to gum disease, injury or tooth decay – dentures can help restore your smile and confidence. Dentures also make it a lot easier to eat and speak.
If you lose all your teeth, the facial muscles can sag and you may look like you have aged overnight. With dentures, your facial profile will fill out again and improve your appearance. A good set of dentures can even improve your smile.
There are different types of dentures that are available today. Get one fitted according to your specific needs.
Conventional dentures
These dentures are fully removable and are placed in your mouth. To use conventional dentures, you must have an otherwise healthy mouth with fully healed tissues. First the remaining teeth are removed. During the time that it takes for the tissues to heal, you will have to manage without teeth.
Immediate full denture
Dentures are inserted immediately when the tooth are removed. This is beneficial because the patient will still have teeth even after the natural teeth are removed, but it would require few sessions for re-alignment.
Partial denture
A removable partial denture or bridge consists of replacement teeth that are attached to a gum-coloured plastic base. This sometimes also uses a metal framework that holds the dentures. Partial dentures are commonly used when there are one or more natural tooth remaining in the upper or lower jaw.
Dentures at Coomera Dental Centre
Visit Coomera to get fitted with dentures that suit your requirements and budget. When you first start wearing dentures it will feel unnatural in your mouth. But bear with it and eventually you will get used to it.
When not in use, keep the dentures in a safe place covered in water
Rinsing and removing any loose food before brushing is important
Brushing of gums, tongue is also important as it helps to remove plague and improve oral hygiene
During your consultation with our dentists, they will provide you with more tips and guidance on how to take care of your dentures.