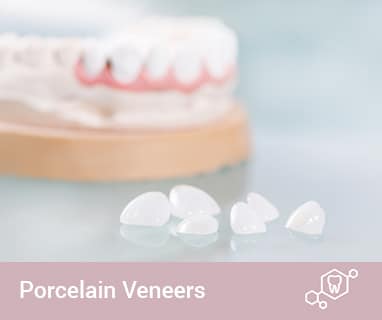 Do you worry about your smile when you look in the mirror? Does the sight of crooked or chipped teeth take away your confidence? At Coomera Dental Centre, our experienced dentists can give you a bright, white smile using porcelain veneers.
What are porcelain veneers?
Dental veneers or porcelain veneers are wafer-thin, custom-made shells of tooth-coloured material designed to cover the front surface of the teeth.  The veneers can cosmetically enhance your teeth, without making it look like you have had any work done.
The veneers are attached to the front of the teeth to change their colour, shape, size and length. As the name suggests, they are made of porcelain, and mimic the properties of natural teeth better than other any other material.
Porcelain veneers fix problems such as
Discoloured teeth
Worn down teeth
Teeth which are chipped or broken
Gaps between teeth
Irregularly shaped or uneven teeth
How does the procedure work?
Visit Coomera Dental Centre for a consultation with one of our dentists. Discuss your specific concerns with us so we can craft the perfect treatment for you.
The veneers will be custom-fit over your existing natural tooth, thus enhancing the overall appearance of the teeth. Veneers are permanent – once fixed, they cannot be removed. The gorgeous celebrity smiles that you see on movies and TV are usually the result of expertly crafted porcelain veneers. We can give you just the same smile.
In some cases, rather than have orthodontic visits to the dentist that could go on for years, veneers can provide a fast, effective and painless solution. One of our dentists here at Coomera will be able to advise you on the most suitable options based on your current concerns, desired outcomes and budget.