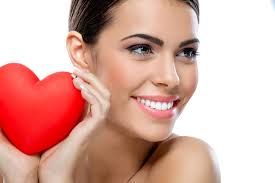 With Valentine's Day coming up, preparation is in full swing. If you have a special date night planned and want to look your best and add a bit of extra sparkle to smile, our teeth whitening options are just for you.
Teeth whitening is a very popular method of boosting your self-confidence as it is an easy and efficient way of completely changing the way your teeth look. Whitening treatments carried out by dental professionals are a much safer option than at home whitening systems. Here at Coomera Dental Centre, the two options of whitening treatments we have include; our in-chair whitening and out take home kits.
In-chair whitening is a popular treatment as it only takes one session to achieve great results. The session generally takes 90 minutes, with the treatment being completed in 15 minute intervals. The dentist will begin by applying a protective layer of rubber across the gums to prevent any irritation. The dentist then applies a layer of a bleaching agent over the teeth and a UV light is then placed over. This treatment method is the fastest way to remove and stains as it contains a higher concentration of hydrogen peroxide compared to off the shelf whitening kits.
The second treatment option we have is our take home kits. This consists of mouth trays that are customised to your teeth to ensure that no bleach reaches the gums. The kit will also include a bleaching gel which is applied to the tray. To achieve the best results, the trays should be worn for 2-4 hours a day for around 7-10 days. This is a convenient option, as you can simply have the trays in at home while completing other tasks.
When these two methods are used in conjunction, the take home trays being used as a top up, the best results can be achieved. If you would like a whitening treatment that is safe and effective, feel free to contact Coomera Dental Centre (07) 5580 4811 to enquire.