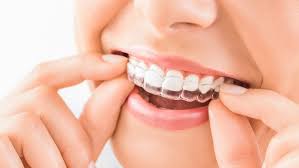 Now that life in Queensland is rapidly returning to normal you can now start to look into getting those teeth straightened up and improve your smile. Invisalign really is for anyone who has the slightest adjustment they are wanting corrected to anyone needing major correction of crooked teeth and overbites. There are many benefits of using Invisalign;
Nearly Invisible – Invisalign is virtually invisible. This means you can always smile with confidence, as compared to traditional braces where the wires and metal brackets can be seen.
Removable – Invisalign aligners are made with SmartTrack® flexible material, making it super easy to remove and put on, unlike braces which are fixed. Now, you can enjoy your favorite food any time you want.
Lesser Pain – SmartStage® and SmartForce® technologies ensure there will only be gradual and gentle yet effective teeth movement throughout your treatment, as compared to braces which may irritate and cause pain.
Clearer Timelines – Invisalign treatment allows you to visualize every stage of the treatment, giving you a clearer picture of the treatment duration. Braces can only give you an approximate duration at the beginning of the treatment.
Better Oral Health – Since Invisalign aligners are removable, you can still floss and brush your teeth as per normal whereas braces may make it difficult for you to clean in between the metal brackets which can result in plaque accumulation and poor oral hygiene.
The best way to find out if Invisalign is right for you is to book a consult with one of our dentists who administer it. They will be able to complete a ClinCheck which provides a 3D picture of what your teeth will look like. This takes any guesswork out of the equation and provides a customized and calculated treatment plan for you.
If you think Invisalign sounds right for you contact our friendly team at Coomera Dental Centre to arrange a consultation.