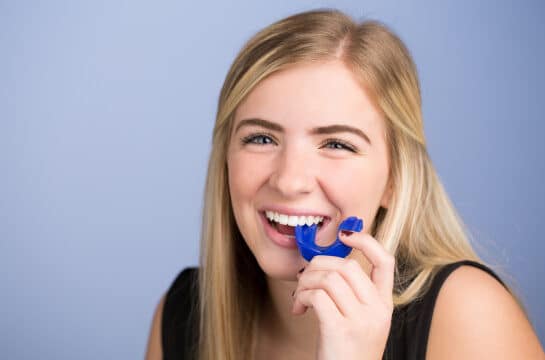 What is a mouthguard?
A mouthguard is a protective shield that fits over your teeth. Mouthguards are usually worn during sports and other activities that involve a high risk of impact to the mouth. Living on the Gold Coast there are a wide range of sports that both kids and adults participate in. Sporting accidents are the most common cause of preventable dental injury having a mouthguard can help to absorb the impact of accidental collision, and resulting dental trauma such as broken jaws, fractured, cracked or knocked-out teeth, cut lips and tongues.
Professionally fitted mouthguards vs. over the counter mouthguards
You probably have seen mouthguards sold at your local pharmacy or supermarket on the Gold Coast but we do recommend getting a professionally fitted mouthguard. The difference between an over the counter mouthguard and a professionally fitted mouthguard is an over the counter mouthguard doesn't provide the same level of protection as a dentist fitted mouthguard, they are not very well fitting. Certainly an over the counter mouthguard is better than not wearing anything at all but choose wisely as saving a few dollars at the time might not help you in the long term.
If you get a professionally fitted mouthguard you can still talk normally and breathe as normal. The mouthguards should stay firmly in place, allowing you to focus on playing the sport you enjoy.
Only dental professionals can design and manufacture a custom-fitted mouthguard that provides acceptable protection. So please be smart by getting yourself or your kids a professionally fitted dental mouthguard by your Gold Coast dentist.
All you need to do from here to call us at Coomera Dental Centre on 07 5580 4811 to book an appointment to get your impressions for your mouthguard, alternatively you can book online on our website www.coomeradentalcentre.com.au