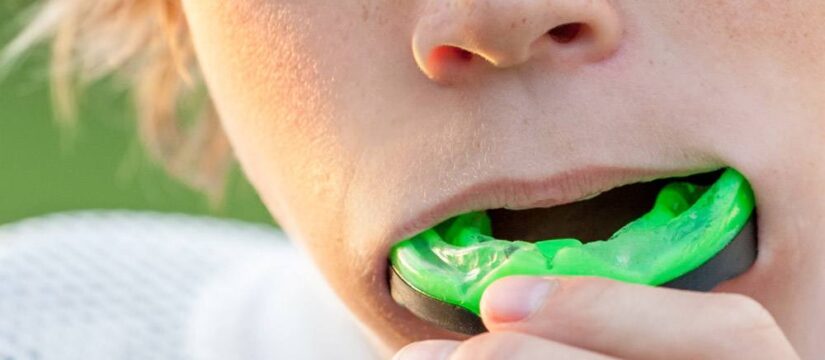 Mouthguards are recommended for anyone playing a contact sport but are also suggested for anyone who plays a sport or an activity where there is a risk of injury to your face and teeth.
Mouthguards help protect your teeth and avoid injury such as broken teeth, a broken jaw, the dislodgment of teeth and cuts and bruises to the lip and tongue.
There are a few different types of mouthguard available that vary in terms of cost and effectiveness, for example:
Stock Mouthguards– Although they are generally the least expensive option, they offer very little in terms of comfort and protection.
'Boil and Bite' Mouthguards- As the name suggests the mouthguard is immersed into boiling water before placing in the mouth to mould to your teeth.  This option does offer some protection but can still be quite uncomfortable to wear and often needs to be replaced regularly due to poor material/fit.
Custom-Made Mouthguards– This type of mouthguard requires an impression of your teeth in the dental chair. The impression is then used to fabricate a mouthguard according to your exact teeth and mouth measurements. A custom fitted mouthguard fits better, provides the most comfort and offers the best possible protection.
Stock mouthguards, 'boil and bite' mouthguards and any other over-the-counter mouthguards can fail to absorb and distribute impact from injury due to poor fitting.
Mouthguards are worn for long periods, so it is important to make sure that they fit correctly and are comfortable. Investing in a custom-made mouthguard can save you from a potential dental related injury and ongoing dental treatment and expense.
Our custom-made mouthguards are fitted and designed with the patient's optimal protection and comfort in mind. All of our mouthguards are custom fit and made in house for a quick turnaround so we can have you back playing your favourite sport safely in no time.
If you or your child needs a mouthguard, contact us at Coomera Dental Centre on 07 5580 4811 or book online at www.coomeradentalcentre.com.au